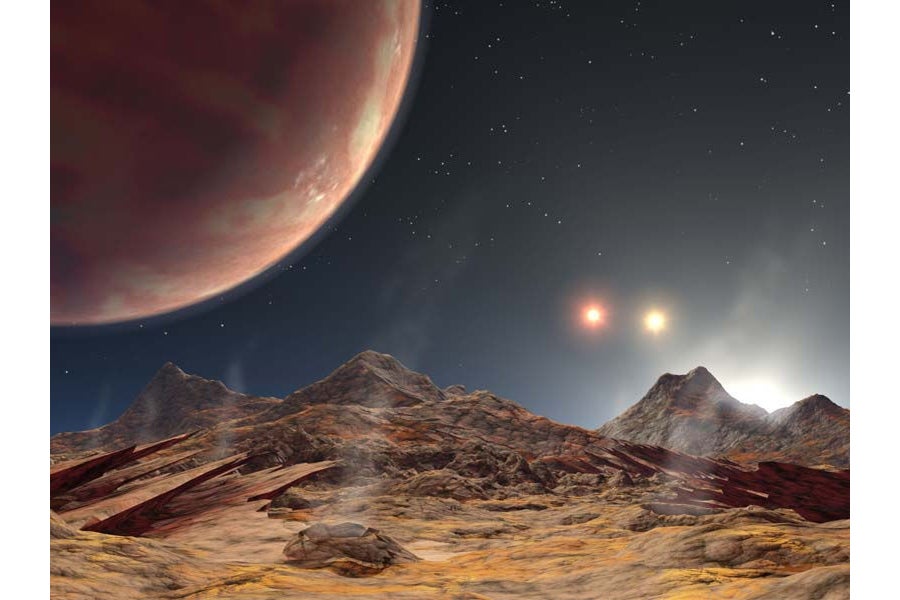 "You're awake. Finally, now we can have a long and civilised talk like gentlemen." The Maliaks "God" said mockingly to the Professor.
"Demons more like" The Professor replied as he stood up, his hands and feet both chained to a wall.
"I know what you are" The Professor continued. "I've met a few gods on my travels to know a phony when I see one."
"Ah yes in your time vessel. I'm still not sure about that, but well we're out of options for now. Such a disappointment about the Maliaks."
The Professor looked around and saw they were alone. "Where are Lindsey and Kirsteen. If you've hurt either one of them I swear."
"You'll do what? I may not be a god, but I can still take care of a miserable child of Khastran no problem."
"Where are they" The Professor said showing no concern at all for the "God's" threats.
"They're on their way back to your vessel. One of the females said she knows how to pilot it. They're going to deposit a weapon against the Demons in the sky. One capable of harming all Demonic life. Sadly by the time my people developed it those monsters had swarmed our world. There'd have been no way of getting it into space, but with your vessel? We just might have a chance."
"I see you weren't willing to detonate it here because you'd go up with it. You were happy to let the Maliaks all die just to save your own skin."
"Why should I sacrifice myself for them". The God said in anger.
"They were nothing without me. Another primitive race who'd probably never have made it to the stars and would have been swept away by a natural disaster, exploited by a more advanced species, or vanished without a trace when their sun died. I gave them a purpose and a special place in the universe." The God continued.
"To be wiped out by Demons?"
"Its not my fault they weren't up to task. I gave them all the knowledge and magic they needed. I appealed to their feeble superstitious brains. Told them that I was their god, I even assumed his form." The Demon said as he morphed back into his true form and back.
"It's funny they seemed to be on the verge of giving up on that superstitious belief when I arrived." The Demon said. "I told them that I had grown displeased with my other creations across the universe and that it was their job as the only children I was proud of to cleanse the universe of life. At first under my leadership they did manage to conquer a few primitive worlds and exterminate all of their inhabitants. Then they moved on to more advanced planets and even toppled a few empires. I was so proud. Then however several allied planets fought dirty. They forced all of their Demonic races to ally against my children. They were unprepared for such a force. They'd fought Demons on many worlds before, but on most planets Demons are tiny scattered forces. We were overwhelmed and pushed back to the Maliaks home planet. If they fail this time then I'll leave them to their fate. There are trillions of other worlds out there."
"I just don't understand why? Why take an ordinary race and advance them through science and magic. You're a Demon? Why not find a way to make them creatures like you?"
"I tried that many times before. Demons have greater power than any of the natural creatures. Your average Demon could tear apart 5 of my Maliaks in a fair fight. Unfortunately however Demons are all such cowardly backstabbing, worms. They can never work together. Every time I tried to lead them it was a disaster. They were constantly trying to usurp me, stab me in the back, abandoning each other in times of need. I could never hope to mobilise them as an effective force."
"Angels meanwhile" he continued. "Even if they did ever follow me would never take another life unless it was defense. The Gods were too powerful for me to lead, and even if I could they only care about themselves and their own interests. Natural creatures however? They're the perfect foot soldiers. They can have the necessary aggression and desire to dominate like Demons. However they can also possess loyalty to one another, and to a strong leader like me. Sure physically most of them are weak, but even then that can be amended to with a little bit of genetic tampering here, a little bit of magic there, and a few culls of the weak and infirm of their race." The Demon continued.
"I think I'm going to be sick" The Professor said.
"You seem to be something of an anomaly" The God said to the Professor, ignoring his insults. "You're a Demon, but you actually seem to care about those two women?"
"I wouldn't expect you to understand."
"That's okay I don't need too. All I need is to know that I can use that to force you to share your secrets of other worlds with me. If you don't those two women will suffer. Assuming they make it back of course. If they don't well, I'll butcher one Maliak child in front of you every day until you tell me. Understand."
"I understand. I'm going to have to kill you, and I'm going to enjoy every second of it." The Professor said back to the God who didn't show any fear of the Vampire whatsoever.
"You'll learn to obey me Vampire." The God said as he sent for several guards to take the Vampire to his cell.
"You're a god make me and show your followers." The Professor said as he was carried away.
Lindsey and Kirsteen were taken to the area they could teleport to the Professors vessel by an escort of six Maliak troops, including the leader of the platoon that had ironically helped Kirsteen and the Professor break into the Demons mountain. Lindsey and the Professor could sense where it was due to their connection to the ship. Kirsteen could even feel its presence somewhat too, though her connection obviously wasn't as strong.
Along the way they saw hundreds of mountains flying over the planet. The Maliaks were able to keep out of sight however, knowing it would be foolish to fight their Demonic enemies. At various points Lindsey thought about running. She knew the Demons would still kill her regardless, but she felt it was worth it not to let the time vessel fall into the Maliak's hands. Ultimately however she didn't for Kirsteen's sake. She and the Professor had brought her into this mess after all. They couldn't have returned her to her own time, but they should never have brought her to this planet when she was inexperienced. Lindsey vowed that no matter what she was going to get Kirsteen out of this mess.
They soon reached the spot. "Remember not to try any tricks. We still have the old man and if you try anything we'll send him back to you in pieces." The leader of the Maliaks said.
"Born again little bloodthirsty fanatic aren't you." Lindsey said to the leader who pushed his gun to the side of Kirsteen's head in response.
Lindsey hoped to stall the Maliaks long enough for the Demons to find them. They were out in the open now so there was a chance they could be spotted. Lindsey pretended the spell wasn't working for a few minutes.
"What do you mean it's not working."
"I don't know maybe those Demons managed to find our ship, but the magic's not taking us up."
The Maliak's leader was no fool and in response he shot Lindsey in the leg.
"You think you can trick me. Next time I'll blow off each of your fingers." The Maliak said.
"Okay, okay" Lindsey said knowing she was beat. In a flash they were all taken back up to the Professor's vessel.
"This place is dire" The leader said derisively.
"Well we didn't have time to redecorate after a Demon tried to kill us all. He was a real monster. He'd make short work of you and your punk ass god. " Lindsey said as she fought through the pain in her leg.
"Can you take me to the medi bay please? If I bleed to death I can't help you" Lindsey said.
"First take us to the control room. You can show us just before you bleed to death. The god will not be kept waiting any longer."
"God I hope those Demons eat you." Lindsey said as the Maliaks made her limp down the corridor to the control room.
There Lindsey checked the controls and saw that there were hundreds of Demon ships outside.
"They obviously noticed there was something wrong with this area of space and they've gathered around it. There is nothing we can do right now. If we move they'll catch us for sure."
"You're lying."
"I'm not take a look at the scanner."
"It's an illusion, you will take this ship to the furthest reaches of the solar system or I'll."
Suddenly Kirsteen broke down into tears.
"Stop making that noise it's pathetic" The leader said to Kirsteen, whilst Lindsey limped over and tried to comfort Kirsteen.
"I can't take this anymore, I just want to go home." She whimpered. "My old life was miserable, but compared to this I just can't."
Before she finished Kirsteen kicked the Maliak nearest to her in the crotch and grabbed its rifle. She then shot two more Maliaks dead before pushing Lindsey behind a nearby control panel.
"I'm impressed" Lindsey said.
"Thanks. To be fair what I said is true, this is a fucking nightmare, but still."
The four remaining Maliaks shot at the the control panel, whilst Lindsey took the gun off of Kirsteen.
"No offence, but I'm a better shot" she said.
Lindsey shot at the ceiling above the four Maliaks. The blast distracted them for a few seconds allowing Lindsey to jump towards to the corpse of one of the Maliaks Kirsteen had killed, which she quickly hoisted up as a shield.
The Maliaks blasted chunks out of the former soldier, whilst Lindsey shot three more of the creatures before throwing what was left of the soldier she used as a shield into the leader. Whilst he struggled under the corpse, Lindsey held her gun at him, but did not fire.
The Maliak tried to reach for his gun, but Lindsey shot his hand off before shooting him in the chest. Lindsey then sank to her knees and began to faint. All of the adrenaline she had used to overcome the monsters began to wear off and the bloodloss was beginning to catch up with her. Kirsteen managed to catch Lindsey just as she fell.
"Lindsey, Lindsey come on we need to get you help." Kirsteen said desperately.
Whilst she was distracted however, little did Kirsteen know the leader of the Maliaks who was stronger than the others had survived the shot to the chest. He was dying, but with his last ounce of strength he managed to push the corpse off and jump onto the main control panel. He quickly pushed several buttons which thrust the ship forward into the Demon vessel.
The entire vessel was rocked back and forth from the collision and Kirsteen and Lindsey were sent hurling to the other end of the room as was the Maliak and its bomb which it clutched onto.
Two of the Demon vessels were knocked out of orbit by the Professors vessel, but the hundreds of others began to surround the ship, ready to attack.
To Be Continued